Spice Plant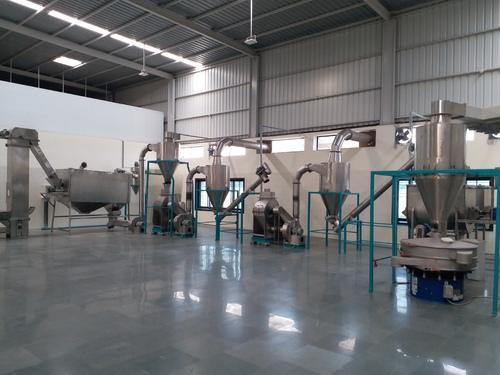 Spice Plant
Price And Quantity
Product Specifications
Spice Processing Plant

SS
Human Machine Interface

Electric
Product Description
Spice Processing Plant
The spice processing plant is offered by us for use in commercial and industrial applications. it is very effective and has an efficient performance. Spice processing and packaging involves several consecutive steps such as cleaning, drying, grinding/pulverizing, sieving, filling and sealing the packaged spices. At first, underground spices are thoroughly cleaned before processing. The offered machine is easy to operate and made for a highly durable service life. The offered Spice processing machine is very effective and helps in making the processing easy and more convenient. The machine does not need any kind of maintenance and is cost effective.
The proposed project is that of setting up of a Fully automatic Spice Grinding and Packaging unit at suitable location.
3.2. The key products of the proposed project are as follows;
Turmeric Powder
Chili Powder
Pepper Powder
Jeera Powder
Dhania Powder
3.3. Spices are used all over the country and the unit can go on adding new products once achieves stability in the market.
3.4. The proposed project would procure the raw materials from the farm level available locally. After processing, the products would be supplied to the market through distributors/ wholesalers/retailers.
TECHNOLOGICAL PROCESS
5.1. The process flow diagram is as follows:
CLEANING
PEELING & CUTTING
DRYING
GRINDING/PULVERIZING
MIXING
PACKING/LOADING/SUPPLY
5.2. PROCESS DETAILS:
(i) Cleaning: First of all, the spices are cleaned with machine to remove impurities.
(ii) Peeling & Cutting to Small Pieces: Some spices require peeling and cutting to small pieces. Such spices are peeled with hand knives.
(iii) Drying: Spices are spread on the floor to provide sun drying. At times, mechanical dryers are also used. Tray type dryer is most suitable.
(iv) Grinding/ Pulverising: Spices are grinded in dry form.
(v) Mixing: After all the above operations, various spices for different purposes are mixed together.
(vi) Packaging: At the end, spices powder are packaged in automatic form, fill and sealing machine.
(vii) Transportation and Marketing: Thereafter, the products are transported and supplied to the bulk purchasers.